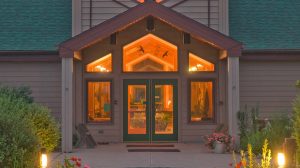 Prairiewoods Franciscan Spirituality Center in Iowa is our September blogger…
Prairiewoods Blends Ecology and Spirituality in Faith-Based Earth-Care
Every story has a beginning, even though there may be no exact moment we can point to and say, "Here is when the first seed was planted. This is where the story began." This is true of Prairiewoods' story. The beginning of Prairiewoods Franciscan Spirituality Center doesn't rest in one specific moment in time; our existence has emerged gradually and naturally over the last five decades …
Over the last 23 years, Prairiewoods has become a leader in faith-based Earth-care, offering as many as 500 programs and retreats a year on ecology, spirituality and holistic health. With our focus on ecology, we take seriously our role as partners with God in caring for Creation. Prairiewoods is blessed to be caretakers for an abundance of natural beauty and a variety of wildlife within our 70 acres of woodlands and prairies. We find joy in our responsibility to actively protect and restore the abundance of life found on our grounds. Read More>
What about your story? What is it calling you to do?
Want to share your story? contact us here
Our September Retreat Centers:
RETREAT FACILITIES FOR RENT:
Retreats by the Lake, FL:
Available from September 1st to May 31st, Retreats by The Lake, operated by Camp La Llanada, sits on the shores of the spectacular Tiger Lake, part of the Kissimmee Chain of Lakes, in Lake Wales, Florida.
Read more >
Vista Verde Retreat, NM:
Desert sanctuary in the rural high desert forest of northern New Mexico. This beautiful abode is tucked away in old-growth juniper and piñon pines.
Read more >
The Mandala Center, Des Moines, NM:
The Mandala Center is a uniquely intimate and peaceful retreat center offering beautiful accommodations and engaging programs for promoting the well being of body, mind and spirit. Read more >
Sagrada Wellness, San Luis Obispo, CA:
Sagrada Wellness's intimate retreats accommodate a limited amount of guests at a time, in a back-to-nature setting with a relaxing spiritual atmosphere. Read more>
Samara Healing Center, Taneytown, MD:
The Samara Healing Center is a beautiful healing and spiritual retreat space surrounded by woods and protected farmland  in north central Maryland.
Read more>
RETREAT PROPERTIES FOR SALE:

Nada Carmelite Retreat Center, CO:
Retreat center situated on approximately 100 acres at the base of the Sangre de Cristo mountains near Crestone, Colorado.
Read more>
Poas National Park Retreat Center, Costa Rica:
Retreat and meditation center as well as a Vegetarian/Vegan guesthouse.  Great view on Poas National park. Read more>
MORE RETREAT FACILITIES:
The Haven, Orange, CA
Chiara Center, Springfield, IL
Saint Meinrad, St Meinrad, IN
Alice Sisson Ministry Center, Wilmington, NC

NEW  LISTINGS:

FOR SALE:
GLEN OVERLOOK: Adirondack High Country Wilderness Retreat, NY
Poas National Park Retreat Center, Costa Rica
Fiddlers Elbow Retreat to Harmony, NJ
FOR RENT:
Hawaiian Sanctuary Retreat Center,HI
Awakening Together Retreat House, La Veta, CO
Sevenoaks Retreat Center, Madison, VA
Sacred Grove Retreat Center, NC
JOIN US and advertise on Find the Divine here
—————————————————————
*Important information about online payments in Europe
A new European Union law is going into effect this month that will require an extra security step for online payments – called Strong Customer Authentication (SCA). This is to reduce fraud for cardholders, and all organisations with EU customers are required to comply.
Thus authentication checks will become more frequent & applied at random when you make a purchase or donation online. When you do any payment or donation in our websites you may see a pop-up from your bank or card issuer requesting a username and password, a code sent to email or text, or any other authentication method supported by your bank or card issuer.
If you have any questions or issues with one of these authentication methods please contact your bank or card issuer directly.