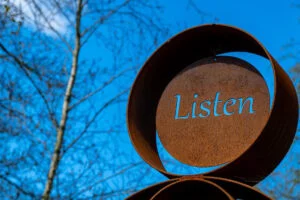 Stop – Breathe – Listen
Workout for the listening muscle.
Listening to the sounds that surround us, paying close attention to their pitch, melody, rhythm, and follow them as they expand is a good practice to develop our listening muscle and get it ready to listen to the "big stuff".

STOP
Wherever you are, whatever you are doing, slow down, stop and close your eyes.

BREATHE
Inhale and exhale deeply a few times.
LISTEN
Follow the sounds surrounding you, close or far, loud or muttered, follow them individually before merging them into an all encompassing Sound. If you hear a bird sings, follow that song till the end. if you hear a car driving by, follow it until it disappears, if you hear your fridge hum stay with it for a while, if you hear rain drops or wind gusts follow them as they unfold. Stay with those sounds, let yourself held by them while you listen and hear their voices.